Home > Loading Devices > Description
Seal Faces Loading Devices
Description of seal faces loading devices
Wide variety of types but they can be categorized as either a spring or a bellows of some kind.

Seal face loading devices impart an axial load to maintain contact when there is no hydraulic pressure from the pumped medium.

At higher pressures the spring force is only a small fraction of the overall face pressure.

At face speeds above 5000 ft/min the spring element is installed stationary because of the centrifugal effects.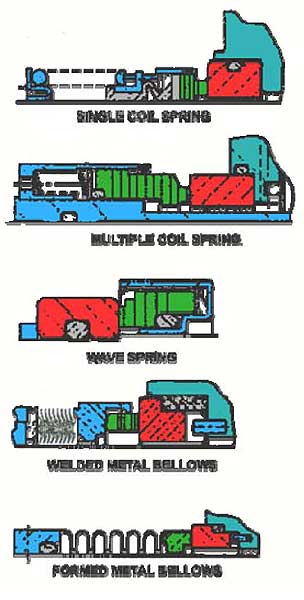 Next Section: Mechanical seal mating ring types table of contents
Back to table of contents for seal faces loading devices
We are located in the Denver Technological
Center in a suburb of Denver, Colorado
©1997-2017, Problem Solving Products, Inc.
Website Map | Privacy Statement | Terms of Use