(303) 758-2728
Viton™ Consists of Three Families of Polymers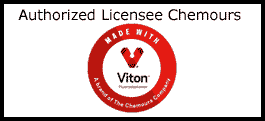 | | | | | |
| --- | --- | --- | --- | --- |
| Viton Family | Product Types | Principal End Users | Polymer Composition | Weight % Fluorine |
| A | A, AL | General purpose sealing: Automotive, Aerospace fuels & lubricants | Dipolymers of VF2/HFP | ~67% |
| B | B, BL | Chemical Process plant, Power Utility Seals & Gaskets | Terpolymers of VF2/HFP/TFE | ~68% |
| F | F | Oxygenated Automotive fuels. Concentrated aqueous inorganic acids, water, steam | Terpolymers of VF2/HFP/TFE | ~69% |
The three families differ primarily in the end-use performance of the parts made from Viton. Each family differs in its ability to: resist permeation and volume increase, resist attack and property degradation caused by the chemicals and fluids.
Speciality versions of A, B & F types are available in which HFP is replaced with a speciality monomer to improve low temperature flexibility.
The choice of the most appropriate family of Viton to use for any given end-use application will be determined by the end-use service, and in particular, whether the finished part must provide:
Resistance to amines or caustics
Resistance to hydrocarbon fluids
Flexibility at low temperature (ability to maintain a seal at low temperature)
The end-use performance capability of the various families of Viton differ primarily in terms of these three factors.
We are located in the Denver Technological
Center in a suburb of Denver, Colorado
©1997-2017, Problem Solving Products, Inc.
Website Map | Privacy Statement | Terms of Use