Home > Viton > Automotive Applications
Viton™ O-rings and Seals in
Automotive Applications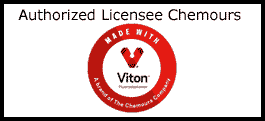 Maximum Performance in Tough Automotive Sealing Applications
Since its introduction as the pioneer fluoroelastomer, Viton (FKM fluorocarbon) has helped establish a new standard of performance for today's advanced fuel and engine systems. Now it is even more effective against extremes of heat, chemicals, fuel mixtures and fuel additives because it is an essential element for meeting today's and tomorrow's more stringent requirements.
Viton is the polymer of choice for fuel seals, head and intake manifold gaskets, quick-connect o-rings, fuel injection seals of all descriptions, caulks, and advanced fuel hose components.
In an era of longer warrantees, hotter engines, more aggressive lubricants and stricter environmental regulations pushing traditional elastomers to their limit, designers routinely look to Viton to replace less thermally and chemically-stable materials.
From caulks to compounds, there is a Viton product and grade for every need. No wonder Viton fluorocarbon remains the most requested and specified fluoroelastomer for tough automotive sealing applications.
Design Advantages
Application Range -30°C to 225°C with intermittent exposure to 285°C
Resists hydrocarbons and sour gasoline
Excellent dynamic properties
Low permeation rates
Solvent, acid and base resistant
Low compression set
Back to: Viton O-rings and Seals Table of Contents
* Photograph © Can Stock Photo Inc.| zhuzhu
We are located in the Denver Technological
Center in a suburb of Denver, Colorado
©1997-2017, Problem Solving Products, Inc.
Website Map | Privacy Statement | Terms of Use