Home > Viton > Thermal Stability
Viton™ Has Excellent Thermal Stability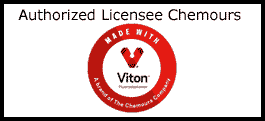 Resisting damage from changes in temperature is important insurance against failure for seals, o-rings and other sealing parts. Viton o-rings and seals resist hardening and embrittlement for up to 10,000 hours of use in air and in a temperature up to 204°C. They are able of withstanding short temperature bursts up to 315°C. And, with the high-temperature capability of Viton, some users can actually increase operating temperatures.
Viton o-rings and seals are effective at low temperatures also.
Effect of Temperature on Hardness on Viton
The hardness of elastomer vulcanizates decreases as the temperature increases. The amount of the loss of hardness depends upon the nature of the elastomer, the degree of cure, and the amount of plasticizer which is included in the compound.
Here is a convenient rule of thumb: At any temperature between 250°F and 500°F (121°C and 260°C) compounds of Viton are 15 to 16 durometer points softer than they are at room temperature. Accordingly, if 75 durometer A is required at 300°F (149°C) then a room temperature application would require hardness of about 90 A.
Next: Viton Chemical Resistance
* Photograph © Can Stock Photo Inc. | PiLens
We are located in the Denver Technological
Center in a suburb of Denver, Colorado
©1997-2017, Problem Solving Products, Inc.
Website Map | Privacy Statement | Terms of Use