Home > Elastomers > Material Specifications 1
Material Specifications
Part 1
ASTM D 2000
Specifications for physical properties of elastomeric seals can be very general or extremely specific in nature. Probably the most common general classification system is ASTM D 2000 "Standard Classification System for Rubber Products in Automotive Applications." The purpose of this classification system is to aid in the selection of practical rubber products for specific environments. It also provides a "line call-out" designation for the specification of materials.
Rubber materials are designated by type (heat resistance) and class (oil resistance). The heat resistance of an elastomer is based on changes in tensile strength of not more than ± 30%, elongation of not more than –50%, and hardness of not more than ±15 points after 70 hours of aging at the specified temperature. The oil resistance is based on the volume swell of an elastomer after a 70-hour immersion in ASTM Oil No. 3.
An example of the general classification positioning of different elastomers is shown in the chart below.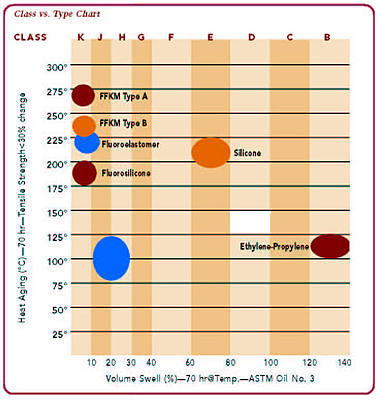 The line call-out, or specification, contains appropriate information for testing and designation for a sealing elastomer. The example shown illustrates a typical line call-out:

Next Topic Material Specifications Part 2, Japanese Industrial Standard (JIS) B 2401 O-rings
We are located in the Denver Technological
Center in a suburb of Denver, Colorado
©1997-2017, Problem Solving Products, Inc.
Website Map | Privacy Statement | Terms of Use