Home > Elastomers > Elastomer Processing 2
Elastomer Processing
Part 2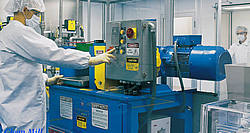 Types of Polymerization Reactions
1. Condensation Polymerization-
yields polymers with repeating units having fewer atoms than the monomers from which they are formed. This reaction generally involves the elimination of small molecules such as H2O or HCl.

2. Addition Polymerization

3. Chain Polymerization/Free Radical Polymerization-

A. Initiation: formation of free radicals by scission of a single bond (homolysis), or by the transfer of a single electron to or from an ion or molecule (redox).
B. Propagation: growth of macromolecular structure.
C. Chain Transfer and Termination: completing the polymerization step.
Types of Chain Polymerization Methods
Bulk Polymerization-
involves only the monomer and a monomer-soluble initiator.
Solution Polymerization-
a solvent lowers the viscosity, assisting heat transfer and reducing the likelihood of auto-acceleration.
Suspension Polymerization-
reaction mixture is suspended as droplets in an inert medium. Polymer particles are produced in the form of beads in the range of 0.1 to 2 mm in diameter.
Emulsion Polymerization-
the initiator is not soluble in the monomer but soluble only in the aqueous dispersion medium. Polymer is produced in the form of a latex with particles in the range of 0.05 to 1 micron.
Next Topic Elastomer Processing Part 3
We are located in the Denver Technological
Center in a suburb of Denver, Colorado
©1997-2017, Problem Solving Products, Inc.
Website Map | Privacy Statement | Terms of Use