Home > Elastomers > Elastomer Processing 1
Elastomer Processing
Part 1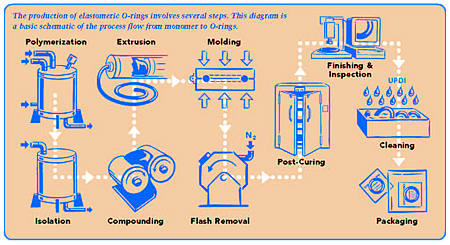 Polymerization

The beginning step for elastomers is the polymerization of the backbone and cure-site monomers. This is typically done by large chemical companies such as Du Pont, GE, Ausimont, Daikin and Dyneon. Common techniques are emulsion, microemulsion, and suspension polymerization. Polymerization combines two or more process gases (monomers) into an aqueous environment and under specific temperature and pressure conditions connects the individual monomers into the desired polymer. Initiating agents, buffers and other chemicals may be added to the polymer reactor to achieve the desired chemical properties and polymerization dynamics.
Isolation
The backbone polymers are isolated (brought out of the emulsion), cleaned and dried.
Chemical agents may be added at this step to isolate the polymer "latex" into a more usable form. Once the polymer is cleaned and dried, the "crumb" polymer is shipped to compounders (or O-ring molders) for mixing.
Compounding (mixing)

The "crumb" polymer is mixed with a cross-linking agent and other functional fillers. The cross-linking agent allows chemical bonds to form between the polymer backbones, thus providing resiliency to the material. Functional fillers include reinforcing fillers, pigments, anti-degradants, acid scavengers and process aids. These ingredients are typically mixed together on a 2-roll mill or other custom mixing machinery.
Next Topic Elastomer Processing Part 2
We are located in the Denver Technological
Center in a suburb of Denver, Colorado
©1997-2017, Problem Solving Products, Inc.
Website Map | Privacy Statement | Terms of Use