Home > Elastomer Properties > Chemical Compatibility
Chemical Seal: Chemical Compatibility
Elastomers can swell and/or degrade in chemical seal environments through reactions with the polymer backbone and cross-link system, or by reactions with the filler system. In the semiconductor industry, this degradation can be seen in increased contamination and reduced seal life.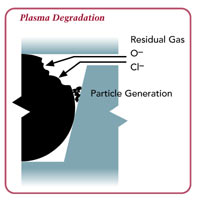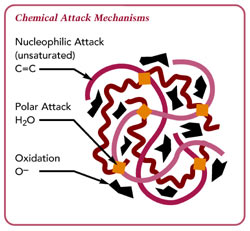 Polymer Backbone and Cross-link:
Polar Attack

Nucleophilic Attack-main mechanism for cross-linking. However, when it occurs in chemical media, it may lead to excessive cross-linking and embrittlement.

Dehydrofluorination-attack resulting in the formation of unsaturated bonds on the fluorocarbon backbone. It can be caused by the attack of primary and secondary aliphatic amines.
Filler System:
Oxidation—degradation of carbon black fillers

Chemical Attack—i.e., HF acid attack of silica fillers
Special Chemical Environments:
Test Methods:
Volume Swell
The most common measure of chemical compatibility for a chemical seal is volume swell. The following formula is used in reporting volume swell measurements. This takes into account dimensional changes in all three dimensions, and is more relevant than specific dimensional change readings for a chemical seal.

Back to Properties of Elastomers
We are located in the Denver Technological
Center in a suburb of Denver, Colorado
©1997-2017, Problem Solving Products, Inc.
Website Map | Privacy Statement | Terms of Use