Kalrez® News 1 - Article 10
Sterile and Pharmaceutical Pumps Benefit From O-Rings of Kalrez®
Interphex 2002, Birmingham, UK, May 21-23, 2002, DuPont Dow Elastomers - Stand C331
Talk to Problem Solving Products about Kalrez® o-rings and seals. Call (303) 758-2728 for instant help with your sealing problems.

News Release from DuPont (Formerly named DuPont Dow Elastomers when this article was written)

5/28/2002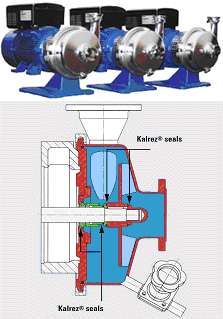 Euro-Hygia®, Hygiana-HT and Contra series pumps manufactured by Hilge-Pumpen AG are fitted with O-rings of DuPont Dow Elastomers Kalrez® 6221 perfluoroelastomer to meet stringent safety, cleanliness, sterilization, chemical resistance and seal life requirements demanded by the pharmaceutical, biotechnology and cosmetics industries.
* Copyright for photograph
Hilge-Pumpen AG, Swiss subsidiary of Philipp-Hilge GmbH, Bodenheim, Germany, has selected Kalrez® 6221 perfluoroelastomer parts to seal its Euro-Hygia®, Hygiana-HT and Contra pump series, to meet stringent safety, cleanliness, sterilization, chemical resistance and seal life requirements demanded by the pharmaceutical, biotechnology and cosmetics industries.
Pumps used in pharmaceutical, biotechnological and sterile processes are subject to the highest standards and safety requirements worldwide. In addition to ease of operation they must also provide maximum biological safety without any unfavourable hydraulic characteristics that could adversely influence sensitive products.
Strict compliance is required with standards set by the FDA, GMP and 3A-Sanitary. In Europe the draft "DIN EN 12462 Biotechnology" sets out performance criteria for pumps in terms of cleanability and sterilization, leakage, materials and their surfaces, and design details in relation to CIP (cleaning in place) and SIP (sterilization in place) capabilities.
Pump and process engineers must therefore take special care in selecting appropriate sealing materials. In addition to hygienic installation and production requirements, they must consider expected sealing life, chemical resistance, CIP and SIP capabilities, and FDA compliance status
Kalrez® 6221 perfluoroelastomer parts, products of DuPont Dow Elastomers, comply with FDA requirements for repeated use in food contact with extractable levels below 0.2 milligrams per square inch, and meet stringent requirements for pharmaceutical and high-purity chemical applications. The perfluoroelastomer parts are specified to reduce the risk of leakage of chemicals and ultra-pure water used, for example, during CIP and SIP procedures at temperatures up to 160°C. Kalrez® combines the outstanding sealing properties of a perfluoroelastomer with the inertness and purity of PTFE to provide an effective solution for processes requiring minimal contamination, as well as longer sealing life.
Reducing bacterial growth
Specific attention must also be paid to the surface roughness of pump construction materials in order to reduce bacterial growth to an absolute minimum and facilitate cleaning processes. Stainless steel used in the pump is therefore carefully selected and electrochemically finished to achieve a smooth, almost particle-free surface.
The surface finish of Kalrez® perfluoroelastomer parts works in harmony with the stainless steel to provide an optimum sealing environment for reduced contamination. This is aided by the extremely low extractable levels of Kalrez® seals measured in various chemical environments - similar to those of PTFE.
In view of the demanding purity and performance criteria, Hilge-Pumpen AG selected O-rings of Kalrez® perfluoroelastomer to help ensure that its Euro-Hygia®, Hygiana-HT and Contra pump meet the rigorous safety requirements of the pharmaceutical, biotechnology and cosmetics industries.
Kalrez® 6221 is marketed as a white O-ring, slabs, and parts produced to customer specifications, manufactured by DuPont Dow Elastomers in ISO 9001 quality certified facilities. Each item is separately packaged with bar coding to ensure full traceability.
About DuPont Dow Elastomers
DuPont Dow Elastomers, a global supplier of specialty elastomers with European headquarters in Geneva, Switzerland, is a joint venture between the DuPont Company and The Dow Chemical Company, with more than US $1 billion in sales. The company is the industry leader in chloroelastomers, ethylene elastomers and fluorinated elastomers, serving the automotive, chemical and pharmaceutical processing, construction, general rubber and wire and cable industries.
Kalrez® is a registered trademark of DuPont.
Euro-Hygia® is a trademark of Philipp-Hilge GmbH.
* © Photographer: DuPont Performance Elastomers
Next Article: Article 9: DuPont Dow Elastomers Extends Capabilities Of Kalrez® Wet And Dry Process Seals At Semicon 2002