Kalrez® News 2 - Article 2
Kalrez® Spectrum™ 6375 O-Rings Solve Difficult Sealing Problem In Natural Gas Sampling System
Talk to Problem Solving Products about purchasing a Kalrez® o-ring seal.

News Release from DuPont (formerly named Dupont Dow Elastomers when this article was written)

9/1/2005
A+ Corporation of Gonzales, Louisiana, USA, manufacturers of the GENIE® Probe Regulator™, a gas pipeline probe used to extract samples for testing the purity and thermal quality of gas at several points from well to consumer, has expanded its service to petrochemical plants and refineries by fitting O rings of DuPont Dow Kalrez® Spectrum™ 6375 perfluoroelastomer parts. Since switching to Kalrez® in December 2002, the company reports that its GENIE® Probe Regulator™ (GPRTM) continues its record of flawless performance and is now being used in an even broader range of applications. Thousands of units are in service worldwide.
Transporting natural gas is a challenge faced by all industrialized nations. In the United States alone, over 270,000 miles (435 000 kms) of above- and below-ground high-pressure pipelines deliver gas to millions of households and commercial businesses. Traveling at a speed of about 30 mph (48 kph), a flowing gas stream can take several days to make the trip from producing site to utility customer. During its trip, the gas stream can accumulate contaminants including moisture, sulfur, and chemicals left over from the production process, all of which can affect gas purity and thermal quality. So at several points during long journeys, contents of the pipeline are sampled and analyzed by probes to determine the BTU value of the gas as well as its moisture and chemical content.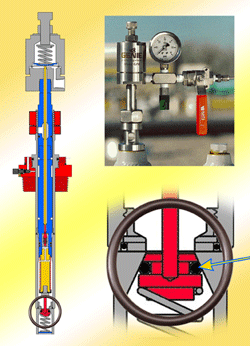 The GENIE® Probe Regulator™ from A+Corporation is inserted into a pressurized gas pipeline to test the purity and energy content of natural gas. Seal security in the harsh chemical operating environment is provided by DuPont Dow Kalrez® Spectrum™ 6375 O-rings. Cross-section shows Kalrez® O-ring in foot valve at base of the instrument fitted to maintain sealing integrity despite exposure to high pressures and temperatures, chemical attack, and compressive stress.
* Copyright for photograph

"When we introduced the GENIE® Probe Regulator™ (GPRTM) in February, 1999, we used fluoroelastomer and then neoprene for the critical foot valve seals. These were effective and reliable in the GPRTM. But we discovered an opportunity for an even greater level of GPRTM performance in a broader range of applications in December, 2002, when we evaluated Kalrez® Spectrum™ 6375 perfluoroelastomer. With this O-ring we have built impressively upon our record for ultimate dependability," says Don Mayeaux, Founder & CEO of A+Corporation.
Extracting gas samples
Three testing procedures are used to evaluate the purity and energy content of natural gas — Moisture Analysis, Sulfur Analysis, and BTU (energy) Analysis — and all require a stable, representative sample of the pipeline gas free from entrained liquids such as condensed hydrocarbons, amines, and glycols.
Extracting a clean, liquid-free, and representative sample of the flowing gas is achieved by inserting a GPRTM probe into the pressurized pipeline. Gas enters the instrument through a spring-loaded foot valve and then passes through a membrane filter system to a pressure regulator. The membrane filter is designed to reject the liquid hydrocarbon content of the gas at line pressure and temperature and remove any other contaminants present in the pipeline gas, including liquid glycol and amines.
Foot valve seal is critical
Each foot valve controls the entry of pipeline gas into the GPRTM and also allows liquids rejected by the filter/membrane to gravity-flow back into the gas stream. A key component is a critical O-ring that must maintain 100 percent sealing integrity despite exposure to high pressures, chemical attack, and compressive stress. The foot valve and its O-ring must provide a positive liquid- and gas-tight seal whenever the probe is extracted for servicing the membrane.
To meet these tough requirements, engineers at A+Corporation looked for an O-ring made from a chemically inert material that would continue the GPR's record for unquestioned sealing performance and at the same time extend its range of applications.
"Before adopting Kalrez® O-rings, we ran field tests to make sure that the material would perform in the most severe service applications", says Mayeaux. "Our DuPont Dow rep was most helpful in assisting us in our choice of O-ring. He had a wealth of compatibility information available for our consideration." He credits Kalrez® Spectrum™ 6375 with the demanding combination of chemical resistance and mechanical sealing properties required for the foot valve application.
About Kalrez® Spectrum™ 6375
Kalrez® Spectrum™ 6375 is manufactured specifically for the chemical and hydrocarbon processing industries. It provides outstanding performance in a wide range of chemicals including acids, bases, amines and steam up to 275°C in applications such as mechanical seals, valves, flanges and pumps.
About DuPont Dow Elastomers
DuPont Dow Elastomers, a global supplier of specialty elastomers with European headquarters in Geneva, is a joint venture between the DuPont Company and The Dow Chemical Company, with more than USD 1 billion in sales. The company is the industry leader in chloroelastomers, ethylene elastomers and fluorinated elastomers, serving the automotive, chemical, construction, general rubber, plastics and wire and cable industries.
Kalrez® is a registered trademark of DuPont.
Kalrez® Spectrum™ is a registered trademark of DuPont.
Next Article: Article 1: Kalrez® Sahara™ 8085 Offers Significantly Reduced Particle Generation For Semiconductor Manufacturers
* © Photographer: DuPont Performance Elastomers