Home > Kalrez® News 2 > Article 10
Kalrez® News 2 - Article 10
DuPont Performance Polymers Introduces Zalak® 5300 Seals for Cost-Effective Sealing in Photovoltaic Crystalline Silicon and Thin Film Manufacturing
Talk to Problem Solving Products about purchasing Zalak® o-rings and seals.

News Release from DuPont (formerly named Dupont Performance Elastomers when this article was written)

6/24/2010
DuPont Performance Polymers (DuPont) will introduce DuPont™ Zalak® 5300 high-performance seals for photovoltaic cell manufacturing at Intersolar Booth 8159 in San Francisco, July 13-15. Zalak® 5300 seals bridge the performance gap between standard fluoroelastomers (FKM) and perfluoroelastomers (FFKM) seals. Zalak® 5300 seals are specially formulated for use in plasma environments, such as edge isolation, ARC coating in crystalline cell manufacturing, TCO sputtering deposition, and selective a-Si PECVD applications in PV cell manufacturing.
As PV manufacturers use more aggressive and efficient chemicals, such as nitrogen trifluoride (NF3), and oxygen (O2) plasma to increase uptime and improve output, more strain is placed on the manufacturing process. Materials traditionally used in PV manufacturing, like silicone, fluorosilicone, and standard fluoroelastomers can degrade quickly in harsh conditions causing unplanned maintenance due to incompatible sealing materials. "The last thing that cell manufacturers want is a shutdown due to premature seal failure," says Dave Lipnicke, global marketing manager – DuPont. "Our tests indicate that Zalak® 5300 is less likely to erode in aggressive plasmas than standard fluoroelastomers or silicones. For even better plasma resistance, our flagship product, Kalrez® 9100, is still the industry standard."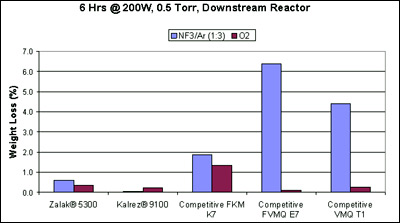 Zalak® seals join the Kalrez® perfluoroelastomer product line as a cost-effective alternative in select applications where traditional sealing materials are insufficient.
In addition to its excellent plasma resistance, Zalak® 5300 seals offer:
good resistance to "dry" process chemistry
excellent compression set properties
low stiction (sticking)
very low particle generation
For static and low-sealing force applications, like chamber lid seals and gas inlet seals, Zalak® 5300 seals are an excellent upgrade from standard sealing materials. Contact Problem Solving Products, Inc. for the availability of sealing shapes or sizes.
DuPont™ Zalak® and Kalrez® are part of a broad and growing portfolio of products represented by DuPont Photovoltaic Solutions, which connects science and technology from across the company on a global scale to help support the dramatic growth in the photovoltaic industry.
Next Article: Article 9: GE Switches To Kalrez® Perfluoroelastomer Parts To Reduce Downtime And Maintenance Costs
We are located in the Denver Technological
Center in a suburb of Denver, Colorado
©1997-2017, Problem Solving Products, Inc.
Website Map | Privacy Statement | Terms of Use